Sensational views, stunning scenery and an explosion of history. Their individual culture and art make Santorini and Bali two of the most extraordinary destinations in the world.
Santorini is Greece's most popular island and it's not difficult to see why. White-washed Cycladic cliffside architecture, breathtaking views out to the deep blue Aegean, and last but certainly not least, romantic and world-famous sunsets. Bali is Indonesia's prized destination – a volcanic beauty offering absolute seclusion and glorious tropical imagery with charm, ambience and tranquility.
It is easy to become lost in the beauty of these two islands with their postcard-perfect bays and sublime landscapes where it really is a case of having to see it to believe it. In preparation for your next getaway to these two otherworldly beauties, we have curated the best in jewellery and accessories to take you from morning to night, and in between. What are you waiting for? Get going and enjoy your breathtaking 48-hour adventure to experience what paradise on earth is all about.
Santorini   36.3932° N, 25.4615° E
Retail Therapy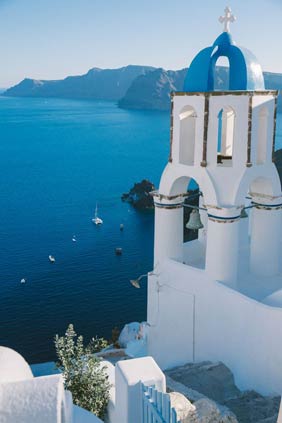 Start your morning by frequenting the little shops and markets that make up the village of Thira. The small streets and alleyways are filled with vendors selling their wares – from clothes to ceramics and artwork to leather goods. With so much to see and do, you could easily spend hours here. Look effortlessly chic while honing your bargaining skills with AKALiS' engravable single disc rose gold pendant necklace. Paired with the designer's matching pendant bracelet and single disc rose gold plated stud earrings, these little gems are timeless and will, without a doubt, become an integral part of your carefree look. By engraving sentimental details onto these little beauties, they instantly become personal and that much more cherished. Add the finishing touch on your look with the colourful paradise that is Ethnique PH's Aurora purple clutch – it's perfectly polished, practical and well positioned for a morning of shopping.
A Day at the Beach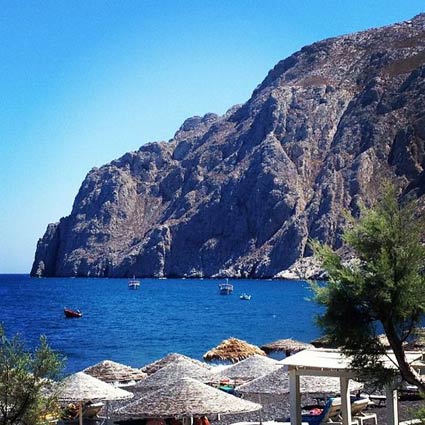 Named as one of Santorini's best stretches of coastline, Kamari Beach is a rare wonder made up of black, volcanic sand. Make like a mermaid with Kayu Design's mermaid pouch made of natural straw and hand-embroidered raffia. Whimsical and fun all rolled into one, this perfect beachside accessory is roomy enough to carry your seaside essentials. Add some dimension to your coastal look with Shashi's Mary seed bracelet in fuchsia – an easy to wear piece that can be layered with other bracelets in the designer's collection, or, drink in more colour with Shh by Sadie's twilight bracelets for a good-looking dose of joy and flair.
Relaxing Sunset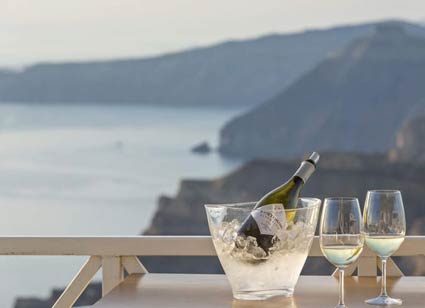 Spend your evening with a guided tour at the Santo Winery on the outskirts of Pyrgos. Enjoy a glass of dry white wine whilst you sit on the terrace taking in the glorious sunset across the Aegean. Engage your senses with these delightfully grand, colour-infused earrings by Miguel Ases. Featuring blue hydro quartz, jade and Swarovski crystals, these earrings exude a strong Greek flavor – long on a trio of colours representing sea, sky and sunset. You could stop here, but why? Sally Skoufis' blue saphir shagreen studded cuff is edgy, wearable, and it's stackable element means you should throw on the turquoise shagreen version for good measure.
Bali   8.3405° S, 115.0920° E
Good Morning, Bali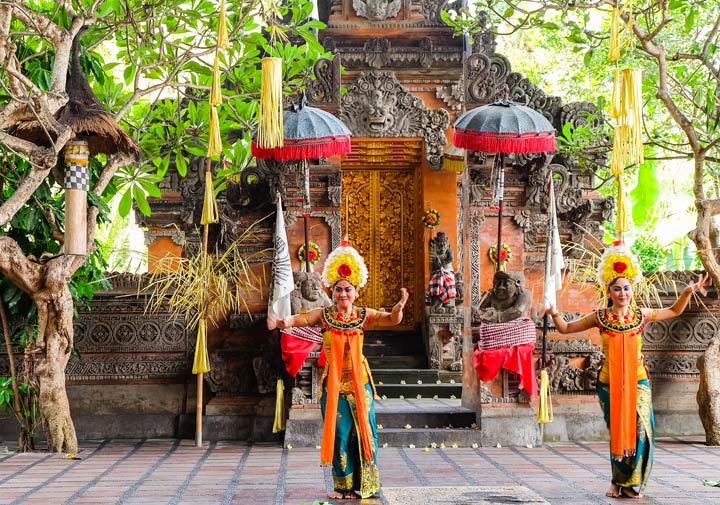 Start your morning with a dose of Balinese culture by attending a barong and keris dance performance. This traditional dance, performed to music, depicts the fight between good and evil. Keep to the theme of the morning with Blee Inara's silver plated eye charm and chain necklace. Known for its protective qualities, this evil eye necklace is truly eye catching. Finish your look with Latelita London's Hamsa hand earrings in silver. These delicate, hand-set earrings feature the five digits of the hand to ensure you are doubly-protected from envious, evil eyes.
Temple Time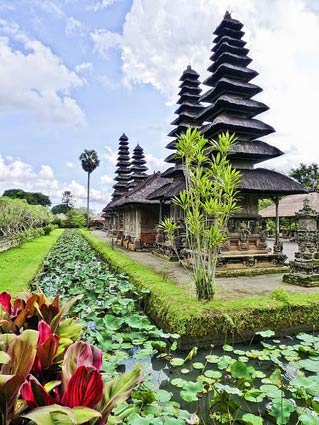 No trip to Bali would be complete without a visit to one of its famous temples. The Taman Ayun Royal temple at Mengwi boasts a beautifully-manicured garden surrounded by an artificial moat with lotus flowers, leading to intricately designed wooden temple doors. Temples are holy places where modesty must be respected, so we suggest keeping your shoulders covered with the Ala Mairi Cirrus scarf in sunset orange. Made of a combination of intricate weave detailing with digital prints on beech wood modal silk fabric, this scarf is sophisticated as it is striking, and is produced in a sustainable way to ensure minimal impact on the environment. When paired with Olga Sergeychuk's Sutazhny earrings in  royal blue, you have a beautiful combination of complementary colours that are dynamic and pleasing to the eye.
Tea Time
Plan your evening around Poppies restaurant in Kuta. Renowned for its fresh seafood and combination of Indonesian and international cuisines. The restaurant is in a perfectly romantic tropical garden setting. Put your hair up and show off your spectacular shoulder-grazing Nocturne Regina earrings. These gems certainly make a statement with their intricate jewel-encrusted circle and square design, but why not make an even bigger statement with Isharya's Louvre resin ring in coral swirl. Made of 18k gold plated brass. This ring offers a splash of coral to blend in perfectly with the white turquoise and leather of the elaborate earrings.
When it comes to packing for an island getaway, it's best to keep your clothing light with simple and wearable pieces. Save the splash for your jewellery and accessories – the key elements to finish any look. From classic studs to statement necklaces, from refined and understated to bold and bright. Just remember, it's always in the detail. Enjoy your 48-hour adventure soaking in the beautiful charms and spectacular scenery of Santorini and Bali. Next time, we ask, take us with you.