When the words 'party' and 'season' are fused together around mid November we can't help but think of sumptuous golds, rich navys and a jet-load of glitter (can you ever have enough at this time of year?) to drown ourselves in and amongst the year's most extravagant festivities. Throwing on any old dress with a trusty pair of courts just won't do during the holidays I'm afraid, it's about time you treated yourself to something a little bit extra special!
Whether it be with your office colleagues who won't quite believe you could ever scrub up so well, or a get together with the girls for one last she-bang before the year's out, not one little thing should be missed on the ultimate Christmas Party - checklists at the ready, we've got it covered… a recipe for success and a few essentials from our gloriously glitzy portal to keep you in check this season… Happy Holidays!
Checklist:
- 4x outfits - a girl needs choices, of course… we recommend a flattering LBD, a sparkly number, a boss-girl playsuit and a top + jeans combo (just incase!)
- 1x pair of gorgeous shoes - embellished heels will do the trick.
- 1x miraculously invisble bra!
- A pair of overpriced, but bloody good pants - bring on the feast!
- 2x pairs of false lashes because the first will inevitably get twisted as you struggle to glue it to your eyelids, half a glass of wine later…
- 10x beautifully manicured fingers, here's your chance to go completely overboard on glitter - feel absolutely no shame.
- A couple of bottles of fake tan for those of us who've let winter take a hold of us far too easily.
- The perfect clutch to carry off your entire look, as well as your evening's necessities. (Keep up to date with our blog for our Clutch Special Feature next week!)
- Something cosy - a faux fur snood or cropped leather jacket.
- And one gorgeously rich and sultry lipstick.
Once you have all of the above nailed, let us complete the look with our ultimate party season essentials...
POTC Gold Plated Cuff 
This contemporary design by our in-house collection POTC features draped golden chains for that extra quirk of detail one needs during the festive season. This statement cuff would effortlessly finish off your edgy rock-chick style before hitting the town. Team with black skinnies and lacy cami with biker jacket and sultry eyes! Don't forget to enter our competition to WIN the entire collection worth over £1000, with just a few days left! Enter HERE!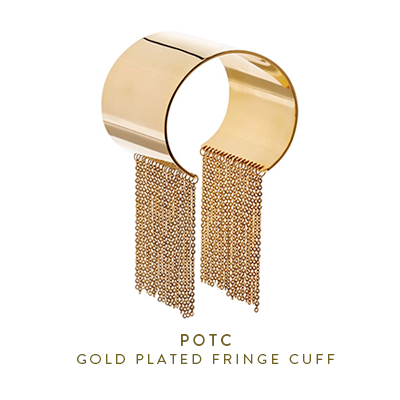 Susanne Verallo Clutch
Handcrafted in the Philippines with Sadie Paua and Mother of Pearl by Susanne Verallo, this 60's inspired clutch is sure to turn heads when teamed with your party look this Christmas. Keep things simple with nude make-up and just a hint of sparkle to let this statement piece do the talking.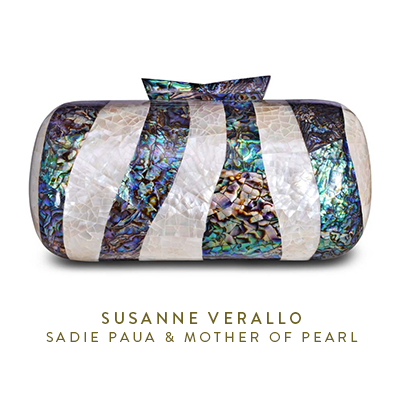 Filigree Drop Earrings
We love the individuality of these unique Moon Drop Earrings by REMA. Intricately set with a fresh water pearls, this on-trend ear cuff style will pack-a-punch with your luxurious LBD for party night! Make sure your hair's up so you can show them off properly and add a bold plum lip to complete the look.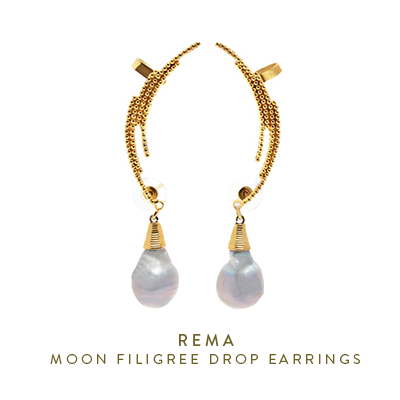 White Topaz Ear Jacket
If you're looking for glitz, we've found your match! These beautifully glistening White Topaz Earrings by Eddera are a little different to what we're used to! Expertly crafted, the stud holds in place sparkling semi-precious stones beneath the lobe adding even more twinkle to your holiday season style. Team with anything - just be sure it dazzles!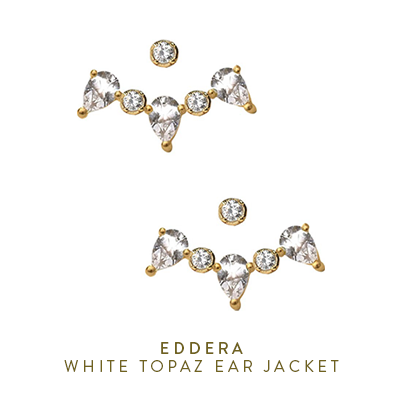 Astra Tourmaline Necklace
And finally, a beautiful piece from our new designer Lily Filo! Part of her 'Dance Til Dawn' collection, inspired by memorable evenings of dancing and delights, this delicate necklace couldn't be better suited to the festivities of the year! Made with iconic gold stars with hand wrapped Beige and Black teardrop tourmalines, team this piece with a low-cut blouse or bardot style pencil dress and killer heels!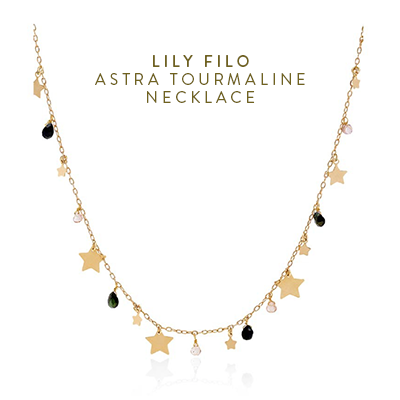 For more gorgeously sparkling pieces, simply take a browse of our luxurious portal and let us know what you'll be wearing this party season! And don't forget to - just add glitter x